Posted by Jill Renee in : Buying Engagement Rings, Buying Jewelry, Destination Proposals, Diamond Jewelry, Engagement Rings, Proposing Marriage , 2comments
Every girls dream died three weeks ago when Actor Ryan Reynolds married his true love, Blake Lively.  Ryan Reynolds, 35, has been stealing girls hearts for over a decade.  Some of his more popular movies include Van Wilder, Just Friends, Definitely Maybe, and of course, Green Lantern.  Lively, 25, is famous for her starring roles in Sisterhood of the Traveling Pants, Gossip Girl and Green Lantern.
Reynolds married Lively on September 9, 2012.  They were married in a private Southern Wedding at Boone Hall Plantation.   The two exchanged their promises at the same place The Notebook was filmed.  The two have been together about a year and even though they tied the knot on September 9th, they did not actually make it legal until 5 days later.
Reynolds chose Lorraine Schwartz to help him with Lively's ring.   The ring setting is designed in rose gold with pave diamonds.  The center is a large light pink oval diamond that looks flawless in color and clarity.  The band has tiny pave set diamonds which match the diamonds of her wedding band.  There are no exact details of the diamond or the price.  The ring has a vintage appeal to it and is beautiful.
The Green Lantern costars seem to be completely in love and honestly happy.  They make a gorgeous couple and we wish them all the best and happiness in the future.
Posted by Jill Renee in : Buying Engagement Rings, Buying Jewelry, Jewelry, Just Jill , add a comment
Have you spent your summer watching Bachelor Pad or Say Yes to the Dress?  Or maybe a wedding or relationship has developed on your favorite sitcom.  Well now it's your time.  We are officially in the middle of National Singles Week. This is a time for you to celebrate that you are single and embrace it.
National Singles Week was started in Ohio in the 1980s.  It is designed to celebrate singles and their contributions to society.  You do not have to actually be single to celebrate this week.  This week is to be celebrated if you are not married.  That means if you are a parent, a partner, or are widowed or divorced, it still counts.  This week is now celebrated all over the United States in the third week of September.
In 2010 there were 99.6 million unmarried people 18 and older in America.  This is equivalent to 43.6 percent of the United States Residents in that age group.  There were 88 unmarried men for every 100 unmarried women. 
Natasha Bedingfield sang "This is my current single status, My Declaration of Independence" in her popular song "Single."  This week is for all the single men and women, no matter the circumstances on how you got there, to celebrate.
So how will you celebrate National Singles Week?  Will you go to dinner with some friends, make a date with somebody special, or unfold in a book or favorite hobby?  It doesn't matter what you decide as long as you celebrate this week for you in your own week.  Happy National Singles Week!
Posted by Jill Renee in : Buying Engagement Rings, Diamond Jewelry, Eco-Friendly Jewerly, Engagement Rings, Jewelry, Press Releases , 4comments
For all of you Bachelor and Bachelorette fans, there was a shocking proposal last night on the finale of Bachelor Pad, Season 3.  Tony Pieper poppe
d the big question last night to Blakeley Shea.  The couple announced on live television that they were moving in together and after that Tony shocked everybody with a proposal.
Tony, from Emily's season of the Bachelorette and Blakeley, from Ben's season of the Bachelor, met on Bachelor Pad Season 3.  They were not paired together at the beginning of the show but after drama and people getting voted off, the couple found each other.  They hit it off fast and their first overnight date was where the magic really sparked.  The couple announced right before the surprise engagement that Blakeley would be moving to Portland, Oregon to move in with Tony.  Tony, a single father, popped the question by stating that she was the perfect addition to his family and he could not imagine spending his life without her.  Blakeley was shocked but of course she said yes.
Tony produced a black Neil Lane box out of his pocket and presented Blakeley with a lovely halo ring.  Neil Lane is the designer who always does the ring for The Bachelor and The Bachelorette.
All of the contestants admit to coming to Bachelor Pad for the money, and if love happens than it happens.  Blakely and Tony seemed like an unlikely couple at the beginning but it just goes to prove that love can be found when you least expect it.
Posted by Jill Renee in : Buying Diamonds, Buying Engagement Rings, Diamond Jewelry, Diamonds, Engagement Rings, Jewelry, Wedding Jewelry, Win Diamond , 44comments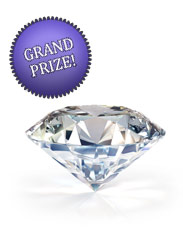 Danforth Diamond, your online engagement ring expert, is launching a facebook sweepstakes beginning September 19, 2011. Five lucky winners will receive fun and elegant silver or gold pieces from Danforth Diamond's jewelry collection. A grand prize winner will receive a one carat cushion cut diamond!
Danforth Diamond offers a wide selection of classic solitaire, three stone, antique and designer engagement rings which are all offered in 14K gold, 18K gold, platinum and palladium. Even with this great selection of engagement rings, Danforth Diamond knows the importance of educating their customers on metal properties, the 4 C's of diamonds and other tricks of the trade. Now, with a presence on Facebook, Danforth Diamond provides a social platform for customer's that want to share their jewelry knowledge and buying experience
"Our goal with the extensive Learning Center on Danforth Diamond is to educate our customers on metals and diamonds so they can purchase with confidence," said Jill Renee, president of Danforth Diamond. "Creating a vibrant facebook community will create a platform where our fans become teachers. We can't think of a better way to create an excited fan base of jewelry fanatics than by giving away five pieces of jewelry and a 1.00 carat cushion cut diamond with almost perfect criteria!"
The one carat cushion cut diamond has an ideal cut with G color and VS1 clarity. There is no fluorescence, and it is GIA certified. The retail value of the diamond is $5,585. The first five prizes include a sterling silver bracelet with butterfly charms valued at $150, a sterling silver bracelet with three stretched oval gold dust links valued at $185, 14K two tone gold hoop earrings valued at $460, a sterling silver bracelet with ladybug charms valued at $230 and a 14K white gold diamond cluster necklace valued at $600. Drawings will occur every Monday for 6 weeks starting on October 10th! The grand prize winner will be drawn on November 14th and the winner will take home the diamond! To view all of the prizes please visit danforthdiamond.com.
Drawing will occur every Monday for 6 weeks, starting on October 10th! The grand prize winner will be drawn on November 14th and the winner will take home the 1 carat diamond!
To view images of the prizes, please visit http://www.danforthdiamond.com/super-6-sweepstakes.
GOOD LUCK EVERYONE!! Jill Renee
Posted by Jill Renee in : Buying Engagement Rings, Destination Proposals, Engagement Rings, Holiday Proposals, Proposing Marriage, Romantic Tips , add a comment
Dear Christy,
As promised, I am writing to share the news of the big night! It was a bit of a hassle because we had some time to kill between our dinner reservation and the proposal time…which was to be 6:26pm, in honor of my favorite Disney Character, Stitch (Experiment 626). We knew we wouldn't want a wedding on 6/26 because that would be too hot, so I had to settle for time =). We got there, killed some time, I made up some lame excuse about the Holiday Haunted Mansion revealing an "exclusive" decoration inside at 6:30pm every night up until Christmas, so that kept us out of the lines. I asked to have our picture taken underneath Sandy Claws at the entrance, and she agreed, and then I turned to her and started quoting the famous line between Jack and Sally from the actual movie (My dearest friend, if you don't mind, I'd like to join you by your side, where we can gaze into the stars and sit together….*drop to a knee* Now and Forever). It was a really special moment…Everything fell perfectly into my plan, any other night because of the crowds it couldn't have happened. So I've included a few pictures which include the last picture we ever took as boyfriend/girlfriend that stood for the reason to get into the position I wanted for the proposal, the actual proposal, and her immediate reaction when she realized everything was for real and she started crying immensely, leaving her face contorted and in an "unflattering" pose to her, haha. Thanks again for everything, the ring is wonderful and she loves it! Getting so many positive responses from everyone when they see it, it's amazing.
Best Regards,
Newly Engaged Christopher
Posted by Jill Renee in : Buying Diamonds, Buying Engagement Rings, Buying Jewelry, Canadian Diamonds, Diamond Jewelry, Diamonds, Eco-Friendly Jewerly, Engagement Rings, Holiday Proposals, Proposing Marriage , add a comment
The holidays are a perfect time for couples to get engaged. Usually, the holiday season brings visits from far away relatives and friends and they present a great opportunity to share the happiness of being newly engaged and to show off the engagement ring!
 This season some celebrity couples have jumped on the holiday engagement bandwagon. Prince William and Kate Middleton kicked off the season followed by Vanessa Minnillo and Nick Lachey and Jessica Simpson and Eric Johnson. Much has been made about the Jessica and Nick engagements following one another so closely but I say so what. Let's all try and play nice and wish them both some happiness. Poor Jessica has been under the microscope with every relationship she has had since the break up with Nick.  If she has found some happiness with Eric, that is great news!  I just can't stand these nasty bloggers who seem to enjoy watching other people suffer. By the way how do they know who paid for the engagement ring and why do they care?
The holidays are supposed to be about good will so celebrating a happy occasion like getting engaged is a perfect fit. If you are planning on getting engaged this holiday season be sure to leave plenty of time to order the engagement ring and eliminate any stress involved with such an important purchase. Be sure to read up on choosing the right engagement ring settings and picking a perfect diamond.  Once you have done all your homework pick a good time to pop the question and have some fun!
Posted by Jill Renee in : Buying Diamonds, Buying Engagement Rings , add a comment
Once you have made the big decision and have decided to ask the one you love to spend the rest of her life with you. Now you must go on a quest for the perfect ring. It may seem like a daunting task but it won't be, if you keep a few things in mind. You will find the perfect ring in no time.
First, you must keep in mind your loved ones choice in jewelry and also your budget to find the perfect ring that will fit your needs. Take a look at the jewelry she wears now to get an idea of what type of style it is and also does she prefer silver or gold. The type of jewelry she prefers whether it is bold or vintage will also give you an idea of what type of ring she might prefer.
Another thing to consider is the shape and setting style. The number one choice chosen by most brides to be are round diamonds. Other styles to choose from include; oval, pear-shaped, square and heart shaped. There are also different settings to choose from, such as; a solitary diamond set alone in a band or a band with stones embedded in it. The type of rings she wears now may give you some clues about what style she would like.
The size and shape of her hands and fingers will also make a difference in which style and type of ring will suit her best. If she has short fingers an elongated diamond such as an oval or marquise can make her fingers appear longer.  If she has long fingers a wideband ring will make her fingers appear shorter. Bold ring styles look very nice on long fingers.  If she has larger hands a small delicate engagement ring could actually look smaller on her finger.
There are also several different precious metals to choose from, including, gold, silver, platinum and palladium. Most women have a preference of which type of metal they prefer their jewelry to be made of. Some women prefer the "white" look of white gold, platinum and palladium. On the other hand, some women prefer gold. If you notice the jewelry she wears now you should be able to determine which metal she would prefer for her engagement ring.
If you are unsure of what exactly she would prefer you can always try to be subtle and get hints from her on what she likes. Another good idea is to enlist the help of a family member or a close friend of hers to help you make the choice. Make sure you choose someone who knows her likes and dislikes and also someone who can keep the ring a secret. You can also browse online or in your local shopping mall to get some ideas.
Choosing an engagement ring can seem like an overwhelming process. If you pay close attention to what your loved one says and the jewelry she wears you will make a perfect choice. You will find the perfect diamond and setting that she will cherish forever.
Posted by Jill Renee in : Buying Engagement Rings, Diamond Jewelry, Diamonds, Engagement Rings, Press Releases, Proposing Marriage , add a comment
Leading diamond company adds 3D viewing for diamond engagement rings
Midlothian, VA – (PRWeb) – February 15, 2008  Danforth Diamond, a leading provider of diamond engagement rings, is proud to announce the addition of 3D view for their engagement rings to allow for an enhanced buyer experience.
As more and more buyers are deciding to purchase their wedding rings and diamonds online, the demand to know exactly what they are buying is growing. While some companies have created digital 3D representations of their rings, Danforth Diamond has created 3D images of their actual rings. No digital representations.
"We [Danforth Diamond] wanted to make sure that our customers knew exactly what they were getting by shopping with us," Jill Renee, president of Danforth Diamond said. "Our 3D diamond engagement rings are the perfect way to see exactly what you want to buy to make sure you get the diamond engagement ring that's perfect for her."
With twenty of their most popular diamond engagement rings, and more to come, Danforth Diamond has placed themselves on the cutting edge of online ring sales. With this move they hope to provide a service that is appreciated by both their loyal customers and the new ones they gain every day.
About Danforth Diamond
Danforth Diamond is a leading online provider of diamond engagement rings, wedding rings, diamonds, and other jewelry. Their selection of white gold, platinum, and palladium engagement rings is unrivaled and offers options to fit every style and budget. Visit Danforth Diamond online to learn more at: http://www.danforthdiamond.com .
Posted by Jill Renee in : Buying Diamonds, Buying Engagement Rings, Buying Jewelry, Diamond Jewelry, Diamonds, Engagement Rings, Holiday Proposals, Jewelry , add a comment
Although the holiday season is one of the most wonderful times of year, it can also be one of the most stressful as we scurry to "get it all done." It's important that we do not allow the hectic holiday pace to overwhelm us. We must take the time to do something special for ourselves: dine with those long lost friends whom you have been meaning to call, laugh through the tacky light tour with friends and family, or simply sit in a warm bath for peace and solitude.
We must remember to recharge our batteries because if we are not well charged those around us will notice our dwindling light! Let your light shine by exhibiting patience and practicing random acts of kindness such as becoming an angel by buying a toy for a child in need. Be positive in your mind, and in your interactions with others. You will find that your attitude will spread like the flu! It is the little things that make a big difference in life.
Here are a few ideas to help you through the holidays:
Shop online! Shopping online is a good way to get a head start on your holiday gift giving plans. Web shopping has never been more secure or convenient and many online retailers are even offering free shipping. Easy returns and great bargains can also be found. Most of your favorite stores have easily navigable sites to lead you to the perfect gift. Buying online allows you to stroll though the mall and enjoy the decorations without having to deal with hectic crowds, long lines, or the burden of carrying heavy packages.
Classic gifts! Jewelry and electronics will always be popular. No one can have enough jewelry, and companies are constantly updating electronics. These gifts are always appreciated and there is no worrying about getting the right size, unless of course you are purchasing a diamond engagement ring. Some websites offer free ring sizers and have tips to determine that special someone's ring size, so if you have your heart set on a diamond ring, finding the right size is easy. Most women love jewelry and men always want the latest electronic gadget.
Make memories! Movie tickets, concert tickets, and game tickets are fun and memorable gifts. If the receiver has a favorite musician or team, hop online and see when the next show or game is.
Crafty ideas! If you would rather put your talent and time into crafting a present, here are some good ideas. Create a box full of love. Cut out hearts, write something special on each heart, and fill a shoe box with reasons for loving the receiver. Or you could create a memory book. When creating this type of book it is important to pick a specific time in one's life to cover, for example a college career or a trip oversees. Fill a book with pictures, brochures, ticket stubs, and cards to remind someone of a special time in their life. A third idea is to print T-shirts. If you and a group of friends have recently done something fun together, grab a picture, think of a funny catchphrase, and put it onto a T-shirt.
Remember the best gift you can give your friends, family and community is the gift of caring. Continue to give your best, even if it is just picking up some litter along the street, sharing a smile with a stranger or letting someone cut ahead of you in traffic. It matters, it's contagious, and it will make you feel great! Happy Holidays!
7 Easy Steps to Survive the Holidays
– Be Patient.
– Plan ahead and make lists.
– Do more shopping online. Gifts such as jewelry, electronics and event tickets are especially appreciated.
– Have lunch with an old friend.
– Shop with friends who are looking for similar presents.
– Give to the needy.
– SMILE!

Happy Holidays
-Jill Renee
Posted by Jill Renee in : Buying Diamonds, Buying Engagement Rings, Buying Jewelry, Diamond Jewelry, Diamonds, Engagement Rings, Jewelry, Palladium Jewelry, Proposing Marriage , add a comment
Deciding to propose to the special somebody in your life is a huge decision, one that will lead you down a path of even more decisions. Of course, the first thing that needs to be decided after you've decided to propose is what type of engagement ring to get. Between diamonds and settings there are so many choices that it can be overwhelming. Hopefully this can be cleared up.
The Diamond
While you're probably more than familiar with the 4 C's of diamonds, there are other things to consider when choosing a diamond, chief amongst them, the shape. Here we'll focus on the shape and two of the C's; cut and carat. Clarity and color can be saved for another day.
The Shape
With so many shapes out there it can be confusing as to the actual differences, so let's simply talk about each of them and their individual merits.
" Round" the most basic of diamonds, and the only shape not considered "fancy," this shape is very much how it sounds – a rounded diamond in the shape of a circle.
"Princess" arguably the most popular shape, this squared diamond has only grown in popularity while still being a relatively new shape. The princess diamond tends to find its way into solitaire engagement rings more than any of the other shapes.
"Emerald" a rectangular shaped diamond, this shape is reflective of a classic and aristocratic elegance. Unlike other diamonds, the emerald shaped diamond is not a brilliant cut but rather a step cut, being comprised of larger, planar facets that resemble stair steps and act like mirrors.
"Marquise" long and slender, this shape, originally commissioned by Louis XIV of France, is wonderful for maximizing the carat within the setting. The marquise shape will accentuate the length of the fingers and works well on a person with longer fingers.
"Oval" as the name implies, this diamond shape is a very simple oval. This shape works very well with smaller hands and shorter fingers, giving them the illusion of added length.
• Pear – a hybrid shape combining the best elements of the oval and marquise shapes, it resembles nothing so much as a teardrop. Typically used in pendants and earrings, this shape compliments short to average length fingers, helping to give the illusion of longer fingers much like the oval shaped diamond does.
• Heart – essentially a pear shaped diamond with a cleft at the top, the heart shaped diamond is the ultimate symbol of romance. This shaped diamond is frequently seen in pendants but is more than acceptable as a choice in a ring.
• Radiant – this square or rectangular shaped diamond does an excellent job of combining the elegant and classic appeal of the emerald shape with the brilliance of the round shape.
• Trillion – a wedge of brilliant fire, the trillion shaped diamond was first developed in Amsterdam. Traditionally a triangle shaped diamond, the amount of point at the corners is often open for interpretation, but these diamonds work well as both a compliment to a center stone, a unique center stone in themselves, or as a pair of earrings.
• Baguette – very reminiscent of the emerald shaped diamond, this shape of diamond is frequently used as side stones to a larger center stone. Much like the emerald shaped diamond, the baguette shape doesn't feature nearly the sparkle of brilliant shaped diamonds, but does offer a classic beauty that is hard to match.
The shape is only the first part of what to look for, at least initially, when considering a diamond for an engagement ring.
The Carat
Carats are essentially a way to measure the weight of diamonds. While the use of the carat measuring system may date back to ancient Oriental bazaars and the carob seed, in the present we know that the more carats in the diamond, the bigger it is.
While the size of the diamond that you get can be determinate on a number of factors, not the least of which is cost, the Setting and Mounting that you choose can also have an influence on the size of the diamond that you get for your ring. (more…)