Posted by Jill Renee in : Destination Proposals, Engagement Rings, Proposing Marriage, Romantic Tips, Wedding Jewelry , 1 comment so far
Season 17 of the Bachelor is the best thus far, if you are interested in drama.  Of course you are, everybody is interested in watching drama and we definitely got our worth this season.  Sean Lowe, the bachelor for season 17 is actually a returning contestant.  He came on the last season of the Bachelorette and Emily Maynard sent him home before the final two.  Even though Sean made it to the final three, he was shocked when Emily sent him home.  His motto this season has been that he will not prolong the journey with any of the girls if he knows the connection is not there.  We have seen him send home several girls before the rose ceremonies because something told him that they were not the right woman for him.
This season has shown us quite a bit of drama with the ladies.  From cat-fights to tears, from injuries to competition, and from insecurities to jealousy.  Most of this evolved around one woman and her name was Tierra LiCausi.  Tierra was the source of a lot of drama on this season.  She was injured twice, once while falling up the stairs, and once because she ran around half naked after doing the polar bear plunge.  Seriously?  She knew what she was doing.  The rest of the girls and Sean all got properly wrapped after they got out of the water.  Tierra is also the one who was always in tears because she could not get along with the other girls.  She had Sean fooled for weeks upon weeks until he finally listened to what the other girls were saying and what his heart was saying and said goodbye to Tierra.  Tierra always talks about her "sparkle" and how nobody will ever take away her "sparkle."  We all look forward to seeing Tierra again on next week's episode, "The Girls Tell All."
As for the other girls, Sean is down to his final two.  He just sent AshLee Frazier home.  AshLee did not see it coming and on the date before he sent her home was telling him that she wanted a cushion cut diamond with diamonds all the way around the band.  I think it is safe to say that Ashley wa
s shocked to be sent home before the final two just like Sean was shocked when Emily sent him home the exact same week.
The final two girls are Catherine Giudici and Lindsay Yenter.  I see a connection with both girls but I think his connection with Lindsay is more natural and is stronger.  With that said, do I think he will pick Lindsay…. NO!  I have learned to read between the lines during these shows and I believe that Sean will pick Catherine.  The way he acts and the things that he says leads me to this decision.  I think that Sean will make a mistake in picking Catherine but I wish him the best of luck in any decision.  I just hope he watches out for Lindsay's military dad if he breaks her heart.
The last two episodes will be interesting.  Will Tierra confront the girls next week at the Girls Tell All and will she confront Sean?  Also, in two weeks, who will Sean pick?  And who gives him the note that makes him tear up before his decision?  Stay tuned, I know I will.
Posted by Jill Renee in : Buying Jewelry, Eco-Friendly Jewerly, Jewelry, Romantic Tips, Wedding Jewelry, White gold , 1 comment so far
Who comes with summer to this earth,
And owes to June her hour of birth,
With ring of agate on her hand
Can health, wealth, and long life command.
There are three gemstones that are associated with births in the month of June. Those stones consist of Pearl, Alexandrite, and Moonstone. The modern birthstone is Pearl or Moonstone, the traditional birthstone is Alexandrite, and the Mystical birthstone is Moonstone.
Pearls were one of the favorite gem materials of the Roman Empire. They are unique because they are the only gems that come from a living sea creature and need no faceting or polishing to reveal their natural beauty. The first successful culturing of round saltwater pearls began in the early 1900s, and since the 1920s, cultured pearls have almost completely replaced natural pearls in the market.
Alexandrite is a beautiful shade of green in daylight and fluorescent light. However, it does change color to a purplish red in incandescent light. It was discovered first in Russia in 1831 and some jewelers stock synthetic versions due to its rarity.
Moonstone was given its name by the Roman natural historian Pliny. He wrote that moonstone's appearance altered with the phases of the moon. Moonstones show a floating play of light. This is called adularescence and it sometimes shows either a star or cat's eye. This gemstone occurs in many igneous and metamorphic rocks and comes in a variety of colors such as green, blue, peach, and champagne.
From Pearl, to Alexandrite, to Moonstone; whichever you choose for your birthstone, Danforth Diamond wishes all of our June babies a Happy Birthday!
Do you or a loved on have a birthday in June and need a piece of jewelry to celebrate.  Browse are jewelry section for your perfect gift today.
Posted by Jill Renee in : Buying Diamonds, Buying Engagement Rings, Diamond Jewelry, Diamonds, Engagement Rings, Jewelry, Wedding Jewelry, Win Diamond , 44comments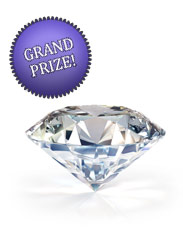 Danforth Diamond, your online engagement ring expert, is launching a facebook sweepstakes beginning September 19, 2011. Five lucky winners will receive fun and elegant silver or gold pieces from Danforth Diamond's jewelry collection. A grand prize winner will receive a one carat cushion cut diamond!
Danforth Diamond offers a wide selection of classic solitaire, three stone, antique and designer engagement rings which are all offered in 14K gold, 18K gold, platinum and palladium. Even with this great selection of engagement rings, Danforth Diamond knows the importance of educating their customers on metal properties, the 4 C's of diamonds and other tricks of the trade. Now, with a presence on Facebook, Danforth Diamond provides a social platform for customer's that want to share their jewelry knowledge and buying experience
"Our goal with the extensive Learning Center on Danforth Diamond is to educate our customers on metals and diamonds so they can purchase with confidence," said Jill Renee, president of Danforth Diamond. "Creating a vibrant facebook community will create a platform where our fans become teachers. We can't think of a better way to create an excited fan base of jewelry fanatics than by giving away five pieces of jewelry and a 1.00 carat cushion cut diamond with almost perfect criteria!"
The one carat cushion cut diamond has an ideal cut with G color and VS1 clarity. There is no fluorescence, and it is GIA certified. The retail value of the diamond is $5,585. The first five prizes include a sterling silver bracelet with butterfly charms valued at $150, a sterling silver bracelet with three stretched oval gold dust links valued at $185, 14K two tone gold hoop earrings valued at $460, a sterling silver bracelet with ladybug charms valued at $230 and a 14K white gold diamond cluster necklace valued at $600. Drawings will occur every Monday for 6 weeks starting on October 10th! The grand prize winner will be drawn on November 14th and the winner will take home the diamond! To view all of the prizes please visit danforthdiamond.com.
Drawing will occur every Monday for 6 weeks, starting on October 10th! The grand prize winner will be drawn on November 14th and the winner will take home the 1 carat diamond!
To view images of the prizes, please visit http://www.danforthdiamond.com/super-6-sweepstakes.
GOOD LUCK EVERYONE!! Jill Renee
Posted by Jill Renee in : Engagement Rings, Jewelry, Wedding Jewelry , 1 comment so far
Kate Middleton has chosen five bridesmaids, ranging in age from five to twenty-five, to stand by her side as she officially becomes royalty. There is hype not only surrounding Kate's gown but also surrounding the gowns of the bridesmaids. While some information about the wedding has been revealed, such the baker of the royal wedding cakes, we have received no information regarding the designer(s) of the bridesmaids' gowns or the royal gown.
According to legend, the bride and her bridesmaids would dress alike in order to protect the bride from potential kidnappers. In the middle ages, men would often capture a bride from a neighboring town if there was a shortage of women within his community. It seems that the royals have loosely followed this tradition by modeling their bridesmaids' dresses after their own. Princess Diana's bridesmaids, mostly young girls, wore white dresses resembling the royal gown, especially in the sleeves. Also according to royal tradition, the same designer is used for all dresses, which naturally weaves a similar touch through all the gowns.
Perhaps Kate will stick with tradition and model her bridesmaid's gowns after her own! For now, we will have to wait and see!
Speaking of bridesmaids, we are often asked, "When is the best time to hand out bridesmaids' gifts?" We suggest handing out your bridesmaids gifts during the rehearsal dinner! Waiting until the day of the wedding may put more stress on you, which is the last thing you need on your wedding day! Also, a very popular gift to give bridesmaids is jewelry that they can wear on the day of the wedding! Check out our bridesmaids' jewelry at danforthdiamond.com. Jewelry, especially pearl jewelry, is a gift that is useful for the wedding day and your bridesmaids' can wear beyond the wedding day.
–
–
Posted by Jill Renee in : Jewelry, Wedding Jewelry , comments closed
Jill Renee – This article is provided by DanforthDiamond.com a leading authority on wedding rings, engagement rings and fine jewelry. Danforth Diamond provides wisdom and advice to help you choose the right ring at the right price. Visit DanforthDiamond.com or call 877.404.RING
Posted by Jill Renee in : Jewelry, Wedding Jewelry , 1 comment so far
Few men are experts on buying wedding rings. For most men, it's a process of becoming educated quickly and then searching desperately for the right ring. The amount of money they're expected to pay for the ring seems fluid, changing each year to accommodate retailers. At the same time, there's a lot of conflicting advice. In an effort to help smooth the process, making it easier and less stressful, we'll provide you with 6 quick tips for buying the perfect wedding ring.
Tip #1: Know Your Metals
In the past, most wedding rings were gold and had a golden tone to them. Yellow gold rings are still popular today, but there are other options available. White gold is becoming more prevalent because it allows the stone to stand out. On the other hand, platinum has become increasingly fashionable. It's more expensive than yellow or white gold, but it's also more durable.
Tip #2: Know Your Purity
If you plan to buy a wedding ring made from yellow or white gold, you'll need to understand the purity of the metal. In most cases, gold rings come in 14k, 18k, and 24k. The greater the number of karats, the higher the purity of the gold. 24k gold is more expensive than 14k or 18k. It's also softer and more prone to becoming scratched.
Tip #3: Know Your 4 C's
Most wedding rings will have at least one diamond. The quality of the diamond is determined by what are known as the 4 C's: cut, color, clarity, and carat of the stone. The stone's cut is what allows the diamond to reflect light. The less color a diamond has, the more valuable it is. Clarity is a reflection of the diamond's inclusions (or, flaws). And the number of carats is a measurement of the stone's size.
Tip #4: Take Her With You
The wedding ring that you purchase for your partner will ideally last a lifetime. Many women have specific preferences for the style and design of the ring. Consider taking your partner with you. It may seem less romantic to do so, but it can help you avoid investing in a ring she doesn't like.
Tip #5: Stone First
It's likely that the wedding ring will become an heirloom, kept in your family for generations. If you're struggling to afford an attractive ring, invest more in the diamond and less in the ring itself. The diamond often carries greater emotional significance over time.
Tip #6: Size It Properly
Even though having a ring resized is relatively simple, try to have it sized properly by the time you offer it to your partner when you propose. If possible, borrow one of her other rings and present it to the jeweler for sizing. A poorly-sized wedding ring won't ruin your proposal, but a perfectly-sized ring will help make it flawless.
Investing In The Ring
A common rule of thumb for pricing wedding rings is to allocate two months' salary. However, that's an arbitrary figure. Instead, focus primarily on finding a ring that will match your partner's style and preferences. While your budget will play a major role in the ring you purchase, other factors are more important. Use the 6 tips described above when shopping. If you do, you'll be better prepared to identify the right ring, confident that your partner will be delighted with it.
Posted by Jill Renee in : Buying Jewelry, Diamond Jewelry, Diamonds, Jewelry, Palladium Jewelry, Press Releases, Wedding Jewelry, White gold , 1 comment so far
Hypoallergenic palladium perfect for those with nickel allergies
Midlothian, VA – November 1, 2007 – Danforth Diamond, the engagement rings experts, released today their new line of 18k palladium white gold diamond engagement rings, wedding bands, and earrings. Danforth makes this announcement in the face of growing demand for quality white gold rings at affordable prices, adding another option to their extensive line of top quality jewelry available at: http://www.danforthdiamond.com
By replacing the nickel or silver traditionally used to make 18K white gold with palladium, Danforth can now offer superior quality without the fear of the common nickel allergy that drives many customers away from white gold, creating another option for their valued customers.
Long used by jewelers as a substitute for Platinum, Palladium jewelry came to prominence during World War II when Platinum was reserved for military uses. As it bears many of the same properties, but not the price-tag, usually associated with Platinum, Palladium was an excellent option for top quality jewelry instead of Platinum. By adding Palladium to yellow gold, jewelers are able to produce white gold that holds the white coloring better and longer than that made with nickel or silver, and helps avoid metal allergies usually associated with nickel.
The addition of Palladium to select wedding bands and diamond engagement rings is why Danforth Diamond continues to be the jeweler more people prefer. This announcement is another in Danforth's long line of meeting their customers' demand for high-quality jewelry. Danforth Diamond plans to continue offering the high-quality products their customers appreciate through their site at: http://www.danforthdiamond.com/ .
About Danforth Diamond:
Danforth Diamond has over 50 years of experience offering quality jewelry for the best value. As experts they provide guidance and advice to help you enjoy the diamond purchasing process, and are known for their wedding jewelry, including platinum, palladium, yellow gold, and white gold engagement rings and matching sets. They are committed to your continued satisfaction.
Company Contact:
Jill Renee
http://www.danforthdiamond.com
Phone: 1-877-404-7464
Press Contact:
George R. Perry
Posted by Jill Renee in : Jewelry, Palladium Jewelry, Wedding Jewelry , add a comment
You picked out the perfect engagement ring. She said yes. You've picked out invitations and reserved the location and you almost forgot the wedding bands. It's easy to see how you could, given that the tradition of wedding rings, especially for men, has really only been popular since the early 20th century, but it's another way to add a personal touch to your wedding.
While there's certainly nothing wrong with getting classically simple gold bands, you can match your personal taste by getting platinum, palladium, and even diamond wedding rings. In addition to the material used to make your wedding bands, you can even decide the design of them, with styles ranging from traditional, simple bands, to more elaborate designs involving complex carvings, inscriptions, and even inset diamonds and other precious gems.
While finding the diamond engagement ring of her dreams was a big step, finding the wedding bands that fit your personality and let the world know that you've found the one person in the world that makes you happy is just as important. With all the craziness that goes with planning a wedding, it's important to remember that even the little things, like picking out your wedding bands, should have the same amount of thought as picking out her wedding dress.
Posted by Jill Renee in : Buying Diamonds, Buying Engagement Rings, Green Weddings, Wedding Jewelry , 1 comment so far
In the world of engagements and wedding planning, green is the new white. From conflict-free wedding jewelry, to an environmentally-conscientious reception, with an eco-friendly honeymoon to round out the nuptials, couples are throwing out the era of Bridezilla and ushering in the age of green weddings. And it all starts with that oh-so-special wedding jewelry.
Choosing a diamond engagement ring and wedding bands are incredibly personal decisions that are also becoming ethical decisions. Socially aware couples now want to ensure that their wedding jewelry selections are not linked to human rights abuses or have not negatively impacted the environment.
Conflict-free Diamonds
Until recent years, newly engaged couples were blissfully unaware that an untold number of corrupt organizations in African countries were illegally mining diamonds that are directly linked to human rights abuses.
The good news is that more than 40 nations worldwide, including the United States, now voluntarily participate in the Kimberly Process, a system that imposes stringent requirements on imports to certify that diamonds are free from conflict. 99.8% of the global production of rough diamonds is now accounted for through the Kimberly Process.
Reputable engagement and wedding jewelry retailers readily confirm the origin of any stone. Online retailers are particularly sensitive to consumer concerns regarding the genesis of their diamonds. Leading online retailers, such as Danforth Diamond, My Solitaire, and Brilliant Earth actively educate consumers by providing helpful information on their websites to ensure that accurate information is easily accessible.
Green Gold?
For those who truly want guilt-free glitter, there are a number of retailers who offer recycled gold for wedding bands and the like. Concerned about a lackluster green ring? Worry not. Recycled gold, which is melted and re-refined, is the same quality as newly-mined gold.
NoDirtyGold.org publishes an ever-growing and impressive list of retailers who support the responsible production of gold.
Vintage jewelry is also enjoying a resurgence in popularity as brides and grooms opt to purchase estate jewelry or wear wedding rings that have been passed down from a family member.
Eco-friendly weddings aren't just for the granola crunching crowd nowadays — and conflict-free diamond engagement rings and recycled gold wedding jewelry are just the beginning. As green weddings become more mainstream, the options and price ranges are increasingly abundant.
Earth-friendly Invitations
Wedding invitations printed with soy- or vegetable-based inks on recycled paper are a mainstay for green couples. If that's not green enough for you, perhaps paperless invitations are the way to go; simply extend electronic invitations for guests who can be contacted via email. Emailed RSVPs offer an added bonus: guests are more likely to respond promptly, allowing you to accurately plan your headcount.
Location, Location, Location
A central wedding location that requires minimal travel for most guests will save on carbon emissions. Booking a venue that can host the wedding ceremony and reception will further reduce carbon emissions. Art galleries, botanical gardens, eco-friendly restaurants, hotels and parks are all excellent choices.
Here Comes the Bride
Something old, something new, something borrowed… something green? You betcha. Green brides can choose lovely, previously-worn gowns from vintage stores or gown consignment and rental shops. Brides can also turn to their family tree for a wonderfully sentimental heirloom gown. A number of designers have also embraced the eco-friendly trend and offer extravagant gowns made of hemp silk.
Wedding Favors as Decorations
Organic, locally grown flowers for bouquets and centerpieces offer a fresh, seasonal touch. Flower arrangements used at the wedding can perform double duty by being moved to the reception. Potted plants also make lovely arrangements and can be transplanted outdoors after the wedding or can serve as gifts that guests can take home.
The Gift that Keeps Giving
Portovert Magazine, the nation's first and only online publication devoted exclusively to environmentally and socially responsible weddings, and NativeEnergy offer a carbon emissions calculator that can be used to evaluate wedding-related carbon sources, including travel, guest lodging and power used at the wedding venues, which can help in the planning of a carbon-neutral wedding. You can find it here: http://www.nativeenergy.com/Splash/Portovert/portovert_wedding_calc.html.
Couples can also offset the carbon emissions produced as a result of their nuptials by making contributions to an eco organization of their choice or requesting that guests do the same in lieu of a wedding gift.
Paying it Forward
Eco-friendly tours, green hotel resorts, simple outdoor adventures, volunteer work for a preservation project — green honeymoons run the gamut and cater to a variety of preferences and budgets. From relaxing and luxuriant to active and outdoorsy, newlyweds can take their dream green vacation that celebrates the beginning of their new life together and the future of our planet.
And to think that it all began with a diamond engagement ring. Green weddings provide couples the opportunity to make a lifelong commitment to each other and to their world. Every wedding anniversary, from the "small" ones to the milestones years is an opportunity to renew that commitment for now and for years to come.
Perhaps a future generation will honor that same commitment by choosing to wear your "heirloom" wedding jewelry.
About the Author
Jill Renee is the president of Danforth Diamond, an online jewelry store offering engagement rings and other wedding jewelry in gold, white gold, palladium and platinum.
Posted by Jill Renee in : Buying Diamonds, Buying Jewelry, Diamond Jewelry, Diamonds, Engagement Rings, Wedding Jewelry , add a comment
Ahhhhhhhhhhhh, yes, ladies. The beloved diamond engagement ring. The starting point for the transition from the boyfriend/girlfriend journey to marital bliss.
Let's face it – we've been admiring the beauty and brilliance of diamonds since we were little girls. But do you know your diamond personality? Given that you're going to be wearing this ring for the rest of your life, you want to be careful about what type of ring your request from your beau.
In Randi Molofsky's book, A Girls' Guide to Buying Diamonds, he offers advice for women on finding the right diamond ring. With the trend of women buying the right-hand diamond ring for themselves, the purchase of the diamond ring is no longer restricted to couples on the road to marriage. His book is a great resource whether you're buying the ring for yourself, or you're helping your significant other choose a ring for you.
Check out this article on iVillage.com, "Find the Perfect Diamonds for Your Personality", that matches personality types with different types of diamonds. As diamonds are a girl's best friend, you want to make sure that your best friend is one you'll want to keep around for a lifetime, right? This is a fun article.