Posted by Jill Renee in : Buying Engagement Rings, Buying Jewelry, Destination Proposals, Diamond Jewelry, Engagement Rings, Proposing Marriage , 2comments
Every girls dream died three weeks ago when Actor Ryan Reynolds married his true love, Blake Lively.  Ryan Reynolds, 35, has been stealing girls hearts for over a decade.  Some of his more popular movies include Van Wilder, Just Friends, Definitely Maybe, and of course, Green Lantern.  Lively, 25, is famous for her starring roles in Sisterhood of the Traveling Pants, Gossip Girl and Green Lantern.
Reynolds married Lively on September 9, 2012.  They were married in a private Southern Wedding at Boone Hall Plantation.   The two exchanged their promises at the same place The Notebook was filmed.  The two have been together about a year and even though they tied the knot on September 9th, they did not actually make it legal until 5 days later.
Reynolds chose Lorraine Schwartz to help him with Lively's ring.   The ring setting is designed in rose gold with pave diamonds.  The center is a large light pink oval diamond that looks flawless in color and clarity.  The band has tiny pave set diamonds which match the diamonds of her wedding band.  There are no exact details of the diamond or the price.  The ring has a vintage appeal to it and is beautiful.
The Green Lantern costars seem to be completely in love and honestly happy.  They make a gorgeous couple and we wish them all the best and happiness in the future.
Posted by Jill Renee in : Buying Engagement Rings, Diamond Jewelry, Eco-Friendly Jewerly, Engagement Rings, Jewelry, Press Releases , 4comments
For all of you Bachelor and Bachelorette fans, there was a shocking proposal last night on the finale of Bachelor Pad, Season 3.  Tony Pieper poppe
d the big question last night to Blakeley Shea.  The couple announced on live television that they were moving in together and after that Tony shocked everybody with a proposal.
Tony, from Emily's season of the Bachelorette and Blakeley, from Ben's season of the Bachelor, met on Bachelor Pad Season 3.  They were not paired together at the beginning of the show but after drama and people getting voted off, the couple found each other.  They hit it off fast and their first overnight date was where the magic really sparked.  The couple announced right before the surprise engagement that Blakeley would be moving to Portland, Oregon to move in with Tony.  Tony, a single father, popped the question by stating that she was the perfect addition to his family and he could not imagine spending his life without her.  Blakeley was shocked but of course she said yes.
Tony produced a black Neil Lane box out of his pocket and presented Blakeley with a lovely halo ring.  Neil Lane is the designer who always does the ring for The Bachelor and The Bachelorette.
All of the contestants admit to coming to Bachelor Pad for the money, and if love happens than it happens.  Blakely and Tony seemed like an unlikely couple at the beginning but it just goes to prove that love can be found when you least expect it.
Posted by Jill Renee in : Buying Diamonds, Buying Engagement Rings, Diamond Jewelry, Diamonds, Engagement Rings, Jewelry, Wedding Jewelry, Win Diamond , 44comments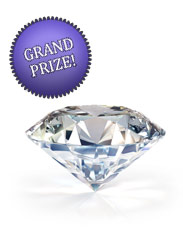 Danforth Diamond, your online engagement ring expert, is launching a facebook sweepstakes beginning September 19, 2011. Five lucky winners will receive fun and elegant silver or gold pieces from Danforth Diamond's jewelry collection. A grand prize winner will receive a one carat cushion cut diamond!
Danforth Diamond offers a wide selection of classic solitaire, three stone, antique and designer engagement rings which are all offered in 14K gold, 18K gold, platinum and palladium. Even with this great selection of engagement rings, Danforth Diamond knows the importance of educating their customers on metal properties, the 4 C's of diamonds and other tricks of the trade. Now, with a presence on Facebook, Danforth Diamond provides a social platform for customer's that want to share their jewelry knowledge and buying experience
"Our goal with the extensive Learning Center on Danforth Diamond is to educate our customers on metals and diamonds so they can purchase with confidence," said Jill Renee, president of Danforth Diamond. "Creating a vibrant facebook community will create a platform where our fans become teachers. We can't think of a better way to create an excited fan base of jewelry fanatics than by giving away five pieces of jewelry and a 1.00 carat cushion cut diamond with almost perfect criteria!"
The one carat cushion cut diamond has an ideal cut with G color and VS1 clarity. There is no fluorescence, and it is GIA certified. The retail value of the diamond is $5,585. The first five prizes include a sterling silver bracelet with butterfly charms valued at $150, a sterling silver bracelet with three stretched oval gold dust links valued at $185, 14K two tone gold hoop earrings valued at $460, a sterling silver bracelet with ladybug charms valued at $230 and a 14K white gold diamond cluster necklace valued at $600. Drawings will occur every Monday for 6 weeks starting on October 10th! The grand prize winner will be drawn on November 14th and the winner will take home the diamond! To view all of the prizes please visit danforthdiamond.com.
Drawing will occur every Monday for 6 weeks, starting on October 10th! The grand prize winner will be drawn on November 14th and the winner will take home the 1 carat diamond!
To view images of the prizes, please visit http://www.danforthdiamond.com/super-6-sweepstakes.
GOOD LUCK EVERYONE!! Jill Renee
Posted by Jill Renee in : Buying Diamonds, Buying Engagement Rings, Buying Jewelry, Canadian Diamonds, Diamond Jewelry, Diamonds, Eco-Friendly Jewerly, Engagement Rings, Holiday Proposals, Proposing Marriage , add a comment
The holidays are a perfect time for couples to get engaged. Usually, the holiday season brings visits from far away relatives and friends and they present a great opportunity to share the happiness of being newly engaged and to show off the engagement ring!
 This season some celebrity couples have jumped on the holiday engagement bandwagon. Prince William and Kate Middleton kicked off the season followed by Vanessa Minnillo and Nick Lachey and Jessica Simpson and Eric Johnson. Much has been made about the Jessica and Nick engagements following one another so closely but I say so what. Let's all try and play nice and wish them both some happiness. Poor Jessica has been under the microscope with every relationship she has had since the break up with Nick.  If she has found some happiness with Eric, that is great news!  I just can't stand these nasty bloggers who seem to enjoy watching other people suffer. By the way how do they know who paid for the engagement ring and why do they care?
The holidays are supposed to be about good will so celebrating a happy occasion like getting engaged is a perfect fit. If you are planning on getting engaged this holiday season be sure to leave plenty of time to order the engagement ring and eliminate any stress involved with such an important purchase. Be sure to read up on choosing the right engagement ring settings and picking a perfect diamond.  Once you have done all your homework pick a good time to pop the question and have some fun!
Posted by Jill Renee in : Buying Diamonds, Diamond Jewelry, Diamonds , add a comment
When a diamond is first extracted from the earth it looks just as any other pebble or piece of rock you may have picked up on a beach and thrown into the sea. Many people never realize the fiery, brilliant stone they are wearing was formed at least 50 miles below the surface of the earth under the most intense pressure and extremes of temperature which compressed humble carbon atoms into a particularly strong atomic formation which gives diamonds their quality of strength and fiery beauty.
In order to bring this beauty and brilliance to the fore, the rough diamond must be cut and polished and how this process is performed will impact directly on how a diamond will look; a wrong cut will destroy the value of a stone and diminish its beauty while a good cut will enhance and amplify one of the world's most beautiful gemstones and certainly, the most valuable.
Cutting a diamond is a highly skilled art form and requires a superb craftsman to perform the process. For some, cutting a diamond is a highly stressful experience, even for those watching – one slip, one unnoticed flaw in the planes of the diamond structure or a mistake made in the choice of cut to apply and the stone can become a worthless piece of rock; so important is the cutting process that over 40% of the value of the finished stone is applied by the cutting process.
There are many different types of diamond cut and which is applied to a rough diamond will be determined by the overall size, weight and shape of the rough diamond as well as the intended use of the stone – many diamonds never become part of a jewelry collection and instead, end up being used in industrial processes using their hardness for forming the points of drill bits for instance.
Common diamond cuts include:
Round
Princess
Marquise
Emerald
Oval
Heart
Pear
By far the most popular cut is the Princess Cut, usually with the stone used as the centerpiece for a solitaire ring, very frequently the choice for an engagement ring. The Princess Cut provides a sparkling effect but uses a more contemporary square style. The Emerald cut provide an elongated rectangular shape which together with the Pear Cut look perfect on long fingers; the shape of the diamond you choose will be influenced by a sense of style and also the size of your lady's hand and fingers. Using an elongated diamond shape (Pear or Emerald) will look better on a hand with short fingers because the shape will accentuate them; a long fingered lady is fortunate in that she can get away with any bold style of diamond ring!
The diamond cut is the only man-made part of the process which directly impacts the value of a stone – the other factors are the Color, the Clarity and the Carat (weight) which with the Cut are known collectively as the "Four C's". Combined together, the Four C's are used to classify and grade a diamond for quality and in turn, to determine its value.
Read more about Diamond Cuts.
Posted by Jill Renee in : Diamond Jewelry, Press Releases , add a comment
Leading Online Jewelry Retailer Danforth Diamond announces the addition of their newest jewelry collection for mothers: The Moppets® from Haute Corporation.
Midlothian, VA  May 6, 2009 — Leading Online Jewelry Retailer Danforth Diamond announces the addition of their newest jewelry collection for mothers: The Moppets® from Haute Corporation.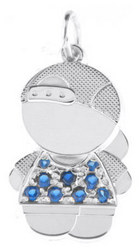 Moppet – available at DanforthDiamond.com
These sweet and sassy little boys and girls, crafted in solid sterling silver and 14kt gold are sure to delight moms all over the world. Each delightful charm is available with diamonds, or with a child's birthstones. Personalized engraving is offered to give each charm some added meaning to the mom who receives it. See the collection at: http://www.danforthdiamond.com/moppets/
Each of the 20 different characters in the charm collection is available in gold or silver; and each has its own name and personal story. They make great gifts for Mother's Day, or any day, and are perfect for adding to a charm bracelet or hanging from a necklace.
In keeping with Danforth Diamond's commitment to help preserve our planet's future each of The Moppets® is made from 100% eco-friendly Harmony Recycled Precious Metal™. The creators of The Moppets® will NOT play a role in the Earth's destruction just to create beautiful jewelry. Instead they choose to help preserve the planet by creating their product line from the HARMONY brand of recycled metal jewelry.
"We are excited to offer these adorable charms to our customers! Every mom and grandmother will love them," said Jill Renee, President, Danforth Diamond.
Ken Bishop, president of Haute Corporation and creator of The Moppets® stated, "Danforth Diamond's commitment to top-quality product, consumer education, and earth-friendly products makes them a natural partner in our effort to introduce the latest generation of The Moppets® to the mothers of America."
Posted by Jill Renee in : Diamond Jewelry, Romantic Tips , 2comments
Simple, yet elegant. Diamond earrings are instantly recognizable for their unique sparkle and their ability to mesmerize onlookers without calling undue attention to themselves. After dating someone for several weeks or months, you may want to give her a symbol of your affection. Something to let her know that she's special to you. Diamond earrings can make the perfect gift. They have a natural versatility and can be worn with virtually any outfit or dress. But, buying them can be a challenge for those who have never done so. In this article, you'll learn about the cut, clarity, and color of diamonds, as well as how to buy them as a gorgeous gift when you are on a budget.
When You're On A Budget
Despite what some people believe, diamond earrings are not necessarily expensive. While some can cost over $200,000, others can be purchased for as little as $225. The price you can expect to pay will depend largely upon the carats. There are also other factors that can influence the price, including the cut, clarity and color of the diamonds used in the earrings.
There are a number of places from which you can purchase diamond earrings. You are unlikely to find the best deals at high-profile shops such as Tiffany's. Instead, check with the jewelry shops in your area. They may have the earrings you need on consignment. Also, check estate sales. Don't be put off by the prospect of buying used diamond earrings. Age and use have no impact upon the perfection of a diamond's cut, clarity, or color.
Cut And Clarity
All diamond earrings use stones that have been cut and polished according to certain precise guidelines. For example, a Round brilliant typically has 33 facets on the top half of the stone and 24 facets on the bottom half. The purpose of these guidelines is to help ensure that the stones can scatter light properly. The more precise the cut, the more sparkle the diamond earrings can offer. The precision of the cut will have an impact on the stone's value. Keep that in mind when purchasing the earrings for your dating partner.
The clarity of the diamond reflects whether flaws exist within the stone. Most diamonds have inherent flaws. Like the cut of a stone, a diamond's clarity can have a significant impact on its value.
Does Color Matter?
Colorless diamond earrings will allow more light to pass through and scatter than those with some grade of color. They are graded by their level of whiteness, starting from "D" and progressing through "Z." As you may imagine, the less color the stones have, the more valuable they are. It is important to note that stones graded "G" will have no color that is perceptible to the unaided eye. Buying diamond earrings with a "G" grade for your partner will help you save money without sacrificing obvious quality.
The Perfect Gift
Diamond earrings make a perfect gift for your partner for a number of reasons. First, they are comparatively inexpensive. Through careful, educated shopping, you can find remarkable deals. Second, they look gorgeous and can be worn as part of any ensemble. Last, and most important, giving your partner diamond earrings communicates a level of commitment and love. Simple diamond stud earrings will last a lifetime and serve as a memory of your adoration and dedication to your relationship with her.
Most people are familiar with the saying "diamonds are a girl's best friend." Diamond earrings may be one of the best ways to say, "I love you."
Posted by Jill Renee in : Diamond Jewelry, Jewelry , add a comment
Spring is right around the corner and new spring jewelry fashions are starting to hit the scene. What will be popular this year? Well, spring means spring break for many college students, and there is a wide variety of beach jewelry perfect for lounging on the sand or swimming in the sea. Shell jewelry is extremely versatile. Necklaces, bracelets, earrings, and other items made from puka shells, white clams, tiger and white shells come in different colors and designs. And these colors can withstand the wear and tear of the ocean without losing their coloration.
When the sun goes down, vacationers start to get ready for a long spring break tradition: hopping spring break parties. Hoop earrings, charm bracelets, and briolette necklaces are the perfect party accessories, and the beauty of these jewelry pieces is that they can be as understated as possible or as flamboyant as one would like. The men have a huge selection to choose from as well; they can go the route of soft leather necklaces embellished with beads to titanium bracelets to diamond stud earrings.
But what type of jewelry trends are likely to be the most popular as we enter the new season? Fortunately, I have some ideas. Topping the list of popular jewelry is the classic pendant. Jewelry may very well take on a more classic look for spring 2008 since the classic heart motif worn as a simple pendant appears to be making a comeback. Even though this look was in strong demand on Valentine's Day, we predict that its popularity will continue to flourish through the spring and the summer. You'll probably also witness a wide variety of pendants worn on simple cords and chains with motifs that reflect the unique personality of the person wearing them. The classic pendant is indeed a very unassuming look that meshes well with the normally flamboyant clothing people tend to wear in the spring.
The hoop earring should also be among the favorite fashion statements of the spring season. Hoop sizes truly run the gamut. Sizes range from huge, oversized single hoops to popular interlocking triple hoop earrings. Be on the lookout for hoops lined with gemstones in popular shades of green and blue, such as aquamarine and peridot. Also expect to see people wearing the more traditional shades of color.
We're also predicting that sterling silver key rings will be popular in the spring. Since these key rings are ideal gifts for important events such as graduation, many people may be walking around sporting them, given the large amount of students who graduate college in the spring.
Even though the fashion world is constantly changing, people still have the tendency to put their own unique spin on the current styles. I hope we at Danforth can help you achieve whatever unique look you are searching for. Happy Shopping!
– Jill Renee
Posted by Jill Renee in : Buying Engagement Rings, Diamond Jewelry, Diamonds, Engagement Rings, Press Releases, Proposing Marriage , add a comment
Leading diamond company adds 3D viewing for diamond engagement rings
Midlothian, VA – (PRWeb) – February 15, 2008  Danforth Diamond, a leading provider of diamond engagement rings, is proud to announce the addition of 3D view for their engagement rings to allow for an enhanced buyer experience.
As more and more buyers are deciding to purchase their wedding rings and diamonds online, the demand to know exactly what they are buying is growing. While some companies have created digital 3D representations of their rings, Danforth Diamond has created 3D images of their actual rings. No digital representations.
"We [Danforth Diamond] wanted to make sure that our customers knew exactly what they were getting by shopping with us," Jill Renee, president of Danforth Diamond said. "Our 3D diamond engagement rings are the perfect way to see exactly what you want to buy to make sure you get the diamond engagement ring that's perfect for her."
With twenty of their most popular diamond engagement rings, and more to come, Danforth Diamond has placed themselves on the cutting edge of online ring sales. With this move they hope to provide a service that is appreciated by both their loyal customers and the new ones they gain every day.
About Danforth Diamond
Danforth Diamond is a leading online provider of diamond engagement rings, wedding rings, diamonds, and other jewelry. Their selection of white gold, platinum, and palladium engagement rings is unrivaled and offers options to fit every style and budget. Visit Danforth Diamond online to learn more at: http://www.danforthdiamond.com .
Posted by Jill Renee in : Buying Diamonds, Buying Jewelry, Diamond Jewelry, Diamonds, Engagement Rings, Palladium Jewelry , add a comment
Purchasing a diamond engagement ring is never an easy prospect, and when you add the thought of buying that ring online, there's an entire level of uncertainty added. One is forced to take certain things into consideration when buying an engagement ring online – Is the picture online accurate? What does the other side of the band look like? Is the metal really that shiny? Fortunately, here at Danforth Diamond, we've taken some of the stress out of purchasing diamond engagement rings online.
At Danforth we understand that you might not know what a cathedral style ring or channel set diamonds looks like, and if the picture on the website doesn't give you a great view, it's understandable why you would be apprehensive about buying the ring. That's why we've added a series of 3D pictures to the Danforth Diamond website. Our 3D views are the ACTUAL ring not a computer-generated photo of the ring in 3D.
Currently featuring over 20 rings, our 3D Diamond Engagement Rings give you the best possible view of the ring your interested in. Speed up, slow down, or completely stop the rotating image to see every angle of the diamond engagement ring you're interested in to make sure that it's exactly what she'll want. You wouldn't buy a car without at least seeing what the interior looks like, so why would you buy a diamond ring without seeing what the other side looks like? Take a look at our 3D Diamond Engagement Rings and you'll quickly understand why we're doing everything we can at Danforth Diamond to ease the ring buying process.
-Jill Renee